– [Narrator] Hey everyone, it's Reacher. My car is a bit on the old side, and that got me thinking
about new transportation. So here's our list of 10
electric bikes for 2018. Number 10, if you're like me and you have limited living space, then owning a bike is
usually out of the question. But that scenario may change, thanks to this first entry on our list. The Mariner 8 is the newest edition to the ProdecoTech line of folding bikes. Its gloss-white aluminum frame is highlighted by black components, offering perfect balance between aesthetics and functional design.
The 300-watt front motor mount delivers 500 watts of peak power, while the proportion system
easily transitions between gears for eight different speeds
up to 18 miles per hour. The twist-and-go throttle allows for pedaling like a regular bicycle as well, in case you just want a bit of exercise. The 40-mile range of the
battery makes this bike great for city commutes or college campuses. In addition, the 20-inch tires allow for a variety of terrains. The Mariner 8 starts out at $1,599 but if you can't afford that, there's plenty of more-reasonable
priced bikes on this list. (upbeat music) Number nine, this entry reminds
us what a motorcycle maker can create when they decide
to make an electric bike. Bultaco Motors designed the Brinco R-B based off of its Brinco R. They retained the hybrid propulsion system and top quality components, but pared the whole thing
down for a more radical look.
The adjustable suspension,
hydraulic brakes and 24-inch tires make for a bike ready to tackle the toughest of terrains. The bold performance is
enhanced by a pedal sensor that allows for a quick
boost of energy while riding. The nine-speed transmission and two kilowatt rear wheel
motor put out a top speed of 37 miles per hour. The battery gives up to 62
miles before needing a recharge. That doesn't sound like a lot, but out on the trails,
I'll take that anytime. This one can be had starting at $4,800. (upbeat music) Number eight, Defiant Bicycles
is based in Minnesota. Apparently, this is where the
concept of fat bikes was born. Now they're throwing a motor on one. This bike looks like any normal bike compared to the others on this list. It operates with a 500-watt
pedal-assist motor, so there's no throttling.
The battery locks onto the frame and connects to the rear
wheel motor via cables. A governor on the five-speed
system tops the speed at 20 miles per hour. But even at its lowest,
the bike still seems fast and runs for about 60 miles. A dashboard display shows diagnostic info and issues alerts when
the battery's getting low. The "Fat Electric" bike
will run you about $3,000. The company claims they have
no boundaries and no equals. Defiant, it all starts with the name. (upbeat music) Number seven, electric
bikes aren't a new concept. Neither are folding bikes. But electric folding bikes
are a bit of a new thing, gaining in popularity as more riders see how they can benefit from both. ProdecoTech is already a
respected player in the game, and their Phantom X2
reaffirms they know exactly what an electric bike should
be, as this bike combines the toughness of both
mountain and hybrid bikes.
A 500-watt motor powers the
bike when you aren't pedaling and can reach up to 20 miles per hour in the highest of its eight gears. The battery pack sits behind the seat in what appears to be a luggage rack, allowing for up to 38
miles on a single charge. The aluminum frame, hydraulic suspension, disc brakes and 26-inch
tires on reinforced rims result in a bike able to
handle any daily commute. All told, it starts out at $1,699. (bright music) Number six, the G12S is
the second-gen release from Greyp Bikes, designed
to take the whole experience of combining motorcycles
and bicycles even further. It's fingerprint-activated,
ensuring you're the only one able to unlock it. Once activated, the
three-inch color display allows you to choose your riding mode, in addition to providing
info on speed and range while you're riding.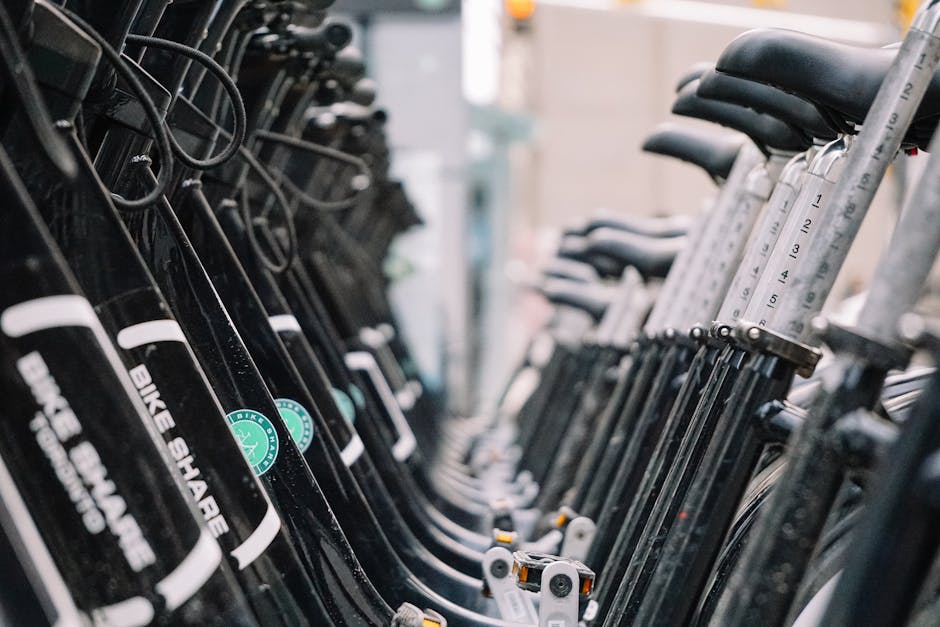 The 12-kilowatt rear wheel
motor and two-speed transmission can reach up to 43.5 miles per hour without any assistance from the rider. The 1.5 kilowatt-hour
battery provides enough juice for up to 74 miles on a single charge. A full recharge can be done in 80 minutes using a standard 110-volt wall outlet. This one is for those of you who may have a bit of extra coin to spend, with its starting price of $8,700. (gentle music) Number five, Mustache
Motors was the hive mind behind this one. And I'm going to just assume
that someone smarter than me did the math and it made sense. The unique interface was created to allow the cranksets to maintain sync with each other in the motor. A special battery wire
was developed as well. In addition, they developed exclusive rims to accommodate the bigger tires. The one-size-fits-all alloy frame was made from variable
thickness hydroformed tubes. The 36-volt, 250-watt motor
puts out 59 pound-feet of torque to an 11-speed drive train. A dual-battery setup is used to link two 500-watt-hour batteries
for an estimated range of 140 miles, depending on
pedal assistance and terrain.
The display acts as a control unit by showing bike info
and letting you choose five different riding modes. So next time you want
to take a romantic ride with your significant other, you can grab one of these for $6,600. (gentle music) Number four, Neematic went
for the sweet spot where extreme dirt biking and the
convenience of a bicycle meet. I'll trust they've achieved that, considering everything I've seen so far. The FR/1 was built for dirt trails and the off-road experience. At 115 pounds it makes
for easy transportation on a bike rack. The streamlined minimalist design is exactly what you would
picture a dirt bike to be if you stripped it down to its core. The mid-drive motor placement allows for a low center of gravity. The output is a massive
15 kilowatts of max power to the ninth speed gear box for a top speed of 50 miles per hour. The removable 2.2 kilowatt-hour battery gives a 62-mile range on a single charge and can be recharged
in two-and-a-half hours in a standard socket. If you wanted to test this one out, it's only $9,500 to do so. (upbeat music) Number three, if you want
to be the most popular guy at your next barbecue, then buy this bike.
It's made for riding, but it's
also made for hauling stuff. And by stuff, I mean ice-cold,
air quotes, beverages. So yeah, high-fives all around. Now, let's discuss the carriage
of the God special enough to carry those
previously-mentioned beverages. The trellis frame has
a fully-adjustable seat and handle bars. The full suspension keeps the
cargo safe from bumpy roads. The dual-battery technology
allows for a second battery to be mounted behind the cargo surface, which helps maintain the
low center of gravity for superior handling. The motor can produce up to
28 miles per hour when coupled with the possible
1,000-watt-hour battery array. I'm sure there's other uses for this bike, but you'll have to figure
those out yourself. I'm gonna be too busy
trying to come up with the $6,900 to buy one. (gentle music) Number two, 60s Roadsters and 40s Bobbers. You can take one look at this bike and see where the inspiration came from.
The company is touting
this as a stylish bike that allows the rider to
commute throughout the day and not have to pedal at all. And just like the bikes of yesteryear, this one can be used to
speed from cafe to cafe as quickly as possible. The hybrid fiber monocoat frame
with its minimalist design looks cool but don't let that mislead you. The power comes from motor outputs between 250 and 2,000 watts, generating up to 59 pound-feet of torque. The batteries range between
500 and 4,500 watt hours. This allows for a range
of 25 to 155 miles, while producing a top speed
of 100 miles per hour. And as a reminder, this is a bicycle. The current pricing is on-demand, as the bikes are made to
order and unfortunately, limited in their production. (upbeat music) Number one, most brands
have a flagship product. After two years of development, Luna anticipates that
the Apex will be theirs. The futuristic shape is
made from carbon fiber. The spars are angular
instead of tubular or flat, which contributes to the high-end look. And unlike many mainstream
e-bikes, it comes in three sizes. The 1.5-kilowatt-hour battery
offers a 40-mile range. The 40 mile per hour top
speed can be controlled with different power levels
from the 10-speed gear box.
The drive system can produce
up to 2,500 watts of power with an option called
the Ludicrous Upgrade. I'm hoping that that's a
nod to the movie Spaceballs. The bike is suggested
for off-road use only, with the four-inch-wide fat
tires and full suspension, ensuring a smooth and controlled ride. You can start getting
ludicrous for only $5,500. Who knows, maybe you'll "go plaid." (gentle music)