– "The e-bike can definitely enrich everyday life
because it creates the opportunity to cover distances that
you might not have been able to cover before by bike. It also
offers an alternative to the car because you no longer have to look for parking spaces
"because it has a correspondingly lower energy
consumption and takes up less space. There are actually 3 categories of
electric bikes. First of all, we have the classic pedelecs, which from a purely
legal point of view is a completely normal bicycle. That means a motor stand,
yes, bicycles with a motor support up to 25 km/h. Then there are the
so-called S-Pedelecs. S-Pedelecs are pure
support motors up to 45 km/h, which in turn are subject to license
plates but may no longer be ridden on cycle paths or anything else. And
then there are the classic e-bikes that are self-propelled, i.e. up to
25 or faster, but they also have to have a license plate. Because they no
longer fall under the category of bicycles. For the general city area, for
normal touring, we cover the whole thing with so-called step-through bikes.
Here is a model optionally with a Bosch motor.
Just an interesting
engine for, yes for the south of Dortmund, where we have significantly more hills. The bike is clearly aimed at the man
who is then out and about with luggage. Seis times n Ruhrtal
cycle path drives. So really, yes, it's been
on the road for a week. Here in the run-up just a
full-suspension mountain bike. To really do the classic
mountain bike tours in the forest. The whole thing with
motor support, of course. The main focus, of course, is the very sporty
area, there is hardly a mountain that you can't really get
up with it. Here too, of course, throttled to 25 km/h. Whereby it is really
very fast off-road. With this model, of course
, we are also in the situation that we have to be able to show a driver's license,
since we are talking about the class of scooters in principle.
However, we also have the legal situation that we are dependent on
roads. In addition , if I would drive such a model,
I am obliged to wear a helmet. Among other things, of course
, the side mirror is also part of it, just like when I drive with it,
the light has to be on all the time.
In terms of price, the bikes actually start
if I want something of reasonable quality, it
actually starts at around two thousand euros. Of course, there are also bicycles
at discounters or others that are also underneath, but
we usually have a catch of the ranges , i.e. what is really, actually to be ridden. With this model you have the option of
charging the bike directly on the battery or on the bike.
We have an opening here for that. The bikes always come with an
enclosed charger, which consists of a mains plug
and a special plug for the battery. So for people who
don't have a garage or a basement with a power connection, we have the
option of removing the battery with the key provided and then connecting
the charger to the battery itself, which we do here in front.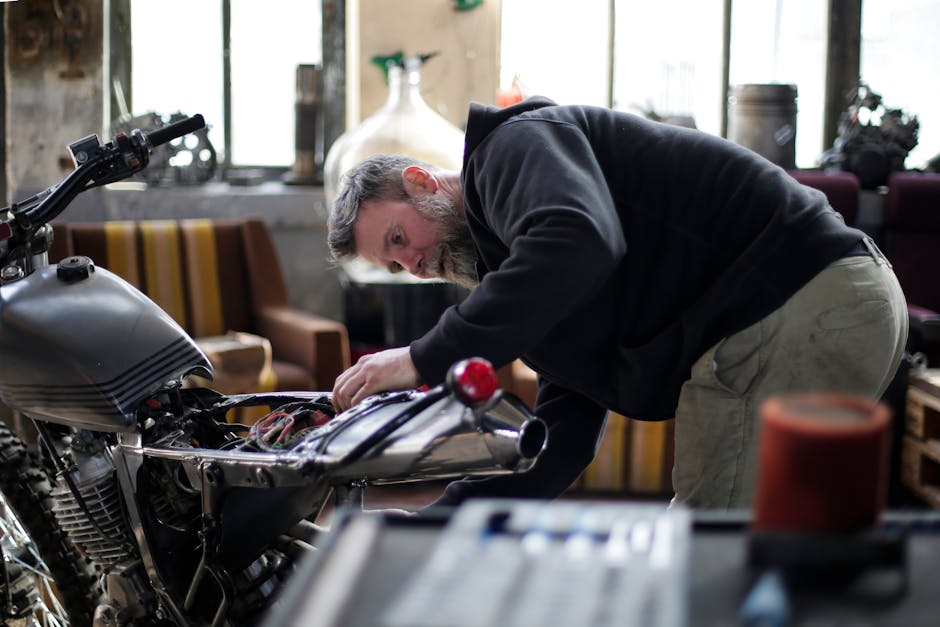 And
then we would also have a charge level indicator on the battery for checking purposes, where we can see
how far the battery level is." – "It is important with the e-bike if you have
ridden it over longer distances, in the period, especially when it is sandy,
on the coast and so that you clean the vehicle regularly so that the sand
comes out of the drive and stuff like that. Just take a water hose at home, take a
watering can, just a rag… You can see it especially on the chain.
If it is very oily, you should clean it once, just wipe the
chain with a cleaning rag. Then wipe dry, once all around. Then I have a care oil here. Allow to dry
for 2-3 minutes after application. And then wipe the chain
again with a dry cloth. Otherwise, if I leave the oil on the chain
and ride with it, I spread it on the hub, in the worst case on the
brake flanks. And then I destroy my brake pads because they no
longer brake.
Then the air pressure is very important, you should test it
at least once a month. Many tire manufacturers write the
minimum and maximum air pressure on them. The bicycles can actually be repaired
in any workshop that has received approval from the manufacturer
. But it's not the case if I
bought the bike in a workshop that I only have
to go to this workshop specifically, even if my colleagues
are also allowed to service this system." – "In conclusion, it can be said that
for every age group there is something here. Whether it is used for sport or
for everyday use, there is something here for everyone.".