Hi everyone! This is the D3F folding mini 
e-bike from DYU cycles. It's compact, sturdy,   simple to set up and ride, and probably the safest 
e-bike you could ever buy as a first-time e-bike   purchase. Now, DYU did send this to me to review 
for you, but I assure you I did ride it around for   a few weeks and I do have some honest feedback. 
The majority of it is good, but there are a few   things that I did not like. More on that in a 
moment. The first thing I would say about the D3F   is how simple it is to own and operate. There are 
no shifters, cassettes, or derailleurs as it's   a single-speed bike, with a 12-tooth gear in the 
rear and a larger 38-tooth gear in the front. And,   while some might not like a single speed, I found 
this to be a breath of fresh air as it adds to   the simplicity of purchasing your first e-bike.
In 
fact, this bike is probably the least complicated   e-bike you could ever own and it's a seriously 
good deal coming in at under $500. If you're   inclined to learn more about the D3F or to buy 
one for yourself we hope you'll use the link in   this video's description as it not only takes you 
to the current best price in your region, but we   also negotiate discounts with the manufacturers 
that we work with specifically for our viewers.   My next favorite thing about the D3F is its 
portability.
Featuring small 14-inch by two and   a quarter-inch tires, handlebars and pedals that 
fold, and a lightweight frame this bike can be   stored almost anywhere. And, while most standard 
e-bikes weigh between 50 and 100 pounds, the DYU   D3F weighs a mere 38 pounds, or 17 kilograms if 
you're on the metric system. And despite that   lower weight, the D3F still feels pretty hardy 
supporting a total weight of up to 265 pounds.   Personally, I'm six foot even and about 175 pounds 
and I had no trouble riding this bike whatsoever.   Another thing that I love about the D3F is that 
the electronics and battery housing has a nifty   cutout section that allows you to grip the frame 
like a handle.
This is great if you live in an   apartment and have to bring your e-bike up or 
downstairs. It's also great for lifting the   bike in and out of your vehicle's trunk. And while 
the D3F doesn't fully fold in half like some other   e-bikes, the handlebars do fold to one side and 
the seat posts can be removed completely resulting   in folded dimensions of 46 by 8 by 28 inches. And 
to take portability even one step further when i   was putting the D3F into the shed on my back porch 
i noticed that the pedals can actually be folded   too. While this only saves a few inches on either 
side of the bike this clever feature could be the   one thing that helps you fit your new ebike into 
a nice slotted area in your garage, or apartment.   So, in terms of portability, the DYU D3F 
definitely gets an A+ from us. Now, let's run down   the operating buttons. The left-hand grip has the 
power on/off button and an adorable little belt. The right-hand grip is where the battery indicator 
and headlight on/off buttons are located.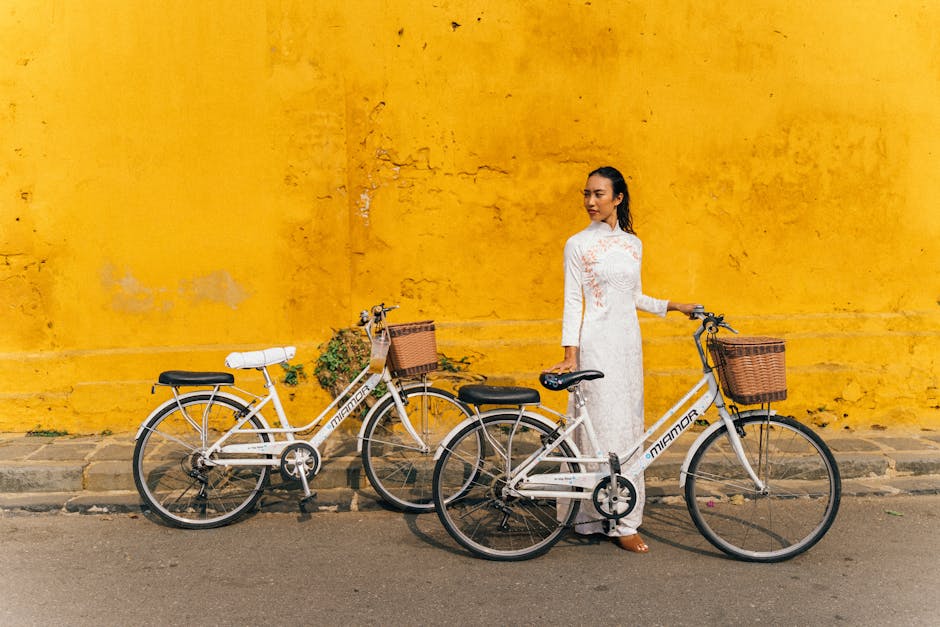 To turn   the headlight on hold down the button for three 
seconds. But, be careful though as the light runs   off the internal battery and, at least on mine, 
the light did not turn off on its own. It should   also be noted that the headlight is mounted to the 
frame and not the fork so the headlight does not   turn to match the steering direction. Oh, and 
the rear tail light is battery operated so it   won't drain your battery. The right hand grip is 
a full-size twist grip throttle which I tend to   like more than thumb or half grip throttles. 
It just gives you kind of a motorcycle feel.
And speaking of which, the D3F 
is legally classified as a class   2 e-bike in the U.S. Meaning it has a motor and 
throttle but won't exceed 20 miles per hour.   In fact, the D3F has a top pedal-assisted speed 
of 15 and a half miles per hour. Which is pretty   much what I saw during my testing. The 10 amp hour 
battery pack is located within the central plastic   housing unit and features 360 total watt-hours 
of capacity. And, speaking of charge, the charge   plug is located on the bottom right-hand side 
of the electronics housing unit.
The design of   the D3F really is quite unique. The flat black 
paint job with red trim and mag tires ties the   design together holistically and reminds me of 
the paint job from the A-Team van. Yeah, A-Team. Another thing I really appreciate about the design 
of the D3F is how well the wiring is integrated   into the frame. The brake lines and electric 
cables have this twisted hard plastic wrap that   kind of resembles an old phone cord. The headset 
and handle grips really feel nice and sturdy in   your hands. There is no front or rear suspension 
which is typical for an e-bike in this price   range, but the included front and rear fenders 
work great at keeping dirt and mud off of your   clothes. There is also a single-sided crankset 
chain guard that keeps the chain from coming   off as well as keeping your pant legs clean. Oh, 
and did I mention this sweet little kickstand?   So, just who is this e-bike for? I think the D3F 
is perfect for anyone looking to spend about $500   on an extremely portable e-bike. I also think the 
simplicity of the D3F, when coupled with the lower   top speed of 15 miles per hour, makes this the 
perfect option for anyone looking to dip their   toe into the world of e-bikes for the first time. 
The single-speed freewheeling crank means there   are no complicated shifters to figure out.
Just 
pedal, or throttle, and go. Having this said,   if you're an e-bike superstar with a quiver full 
of Aventon, or Rad Power Bikes, then eureka! the   D3F is absolutely the perfect e-bike for you. But, 
I want to know your thoughts. Are you interested   in buying the DYU D3F? If so let me know in 
the comments down below. I'm really curious   to know why and what you have to say. And, if you 
like the D3F but want to see what other mini and   micro e-bikes are on the market then you're 
in luck! We've done a lot of research on the   topic and put everything we know into this video 
right here. Be sure to check it out, right now!.